Top 5 Amazon Best Sellers In Coffeemakers
Below is a summary on the current top 5 best selling coffeemakers as you'll find right now at Amazon's list top 100 best sellers in the coffee maker category. At the moment they are dominated by the best in 1-cup or single-serve types which includes those that have verstility to be adopted as a mutliple cup server of up to 12 cups.
Reading through these summary reviews I've compiled below, you'll be able to find a coffemaker with features best suited to your individual needs or preferences. I've provided links to the product pages too so you can check out things further including buyer reviews.
You'll see from the reviews they've earned their right to be consistently in the top 100 as the best sellers and have mostly 4 to 5 star ratings. But before you rush into any purchase,  its important you by the right coffee maker for your needs. At the end of the day, its important you choose a coffeemaker that aligns to your own tastes and how you prefer to drink your coffee – for example, with milk froth or just straight up short-black.
So let's start at no.5 and work our way to no. 1 –  here we go and  let the countdown begin!
No. 5 – Hamilton Beach 2-Way – 1-cup or 12-cup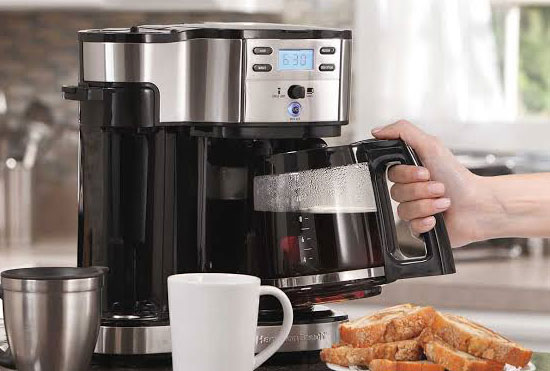 The Hamilton Beach Two Way Brewer has been around for quite a few years now – what makes it so popular for buyers for so long is because of its versatility. It can be adopted as just a 1-cup brewer (either with pods or just use without) and the option of it being a fully-fledged 12-cup coffee brewer.
Add in the fact you have a bonus option of making quality tasting tea, you've got the perfect formula for a best-seller over a long period of time. It's the flexibility of the Hamilton Beach product range that continues the brand's reputation of being the leaders in innovative kitchen appliances. This includes blenders and mixers too.
Those are big reasons that Hamilton Beach has been able to accumulate tons of sales in their range of coffeemakers. The brand aims to really deliver on the patent design with the priority of providing high-quality construction and the removal of the common performance issues you'll find found in other models – such as easy breakages, burning and leaks.
Key Features of the Hamilton Beach Two Way
Two of the big features you'll find noted in any review of this 2-way brewer, is the strength setting (bold or regular) and secondly, the auto shut-off with a 24 hr programmable functionality.
2-way brewing system – single-serve or full coffee pot up to 12-cups.
Permits coffee pods for single-cup use – both K-Cup and Senseo
Ground coffee, unique scoop measuring with filters
12 cup glass carafe or brew into a travel or regular sized mug using single serve function
Functionality for brew strength make bold or just regular coffee
Fully programmable with options up to 24 hours and auto shut-off
Built and designed with durable stainless steel
If you want more information about the Hamilton Beach 2-Way including best pricing then follow the link provided below:
No. 4 – Cuisinart DCC-3400 Thermal Carafe 12-Cup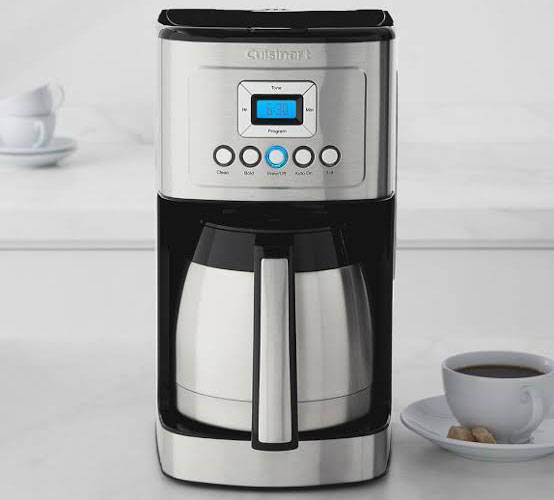 Cuisinart's leading 12-cup programmable thermal carafe is known to produce a much hotter temperature for brewing coffee without any hinderance to taste of your brew. It even has a profile strength setting of regular and bold along with a 24-hour advanced timer.
The overall design is very sleek and modern. The user interface on the DCC-3400 is one of the best on the market in terms of usability – the backlit LCD makes the settings easy-to-read, and it has a "ready" audio tone can be turned on or off, and an indicator light signals when it's time to decalcify.
Key features on the DCC-3400:
12 cup thermal carafe with stylish stainless steel handle
Coffeemaker technology allows for hotter temperature but with no sacrifice to flavour
Brew strength options: regular or bold
Full-auto 24 hour programmable with self-clean, 1-4 cup settings, auto-off, and includes alert tone for ready
Gold-tone coffee filter and charcoal water filter
You get an easy to view water gauge indicator for accurate filling.
60-second reset recall and position in the brewing process in cases of power loss.
Brew Pause – allows the option of serving coffee before the brewing cycle has completed
What's really great about the DCC-3400 is you benefit from having a programmable thermal coffeemaker that's integrated with 'cutting-edge' technology while still saving a lot of money compared to other models that do similar things but for a hefty price.
If you really like the look of this Cuisinart model DCC-3400 and prefer having a slightly hotter coffee brews without losing taste, this is definitely a 12-cup coffeemaker that you should be putting on your shopping list.
If you want to benefit from a thermal carafe coffeemaker that's integrated with the latest technology while still saving a lot of money when compared to other fancy models that at the end of the day, do similar things but for a steeper price. Below is the retail price at Amazon with links to specs and ordering.
No. 3 – Keurig K-Cafe Latte & Cappuccino Maker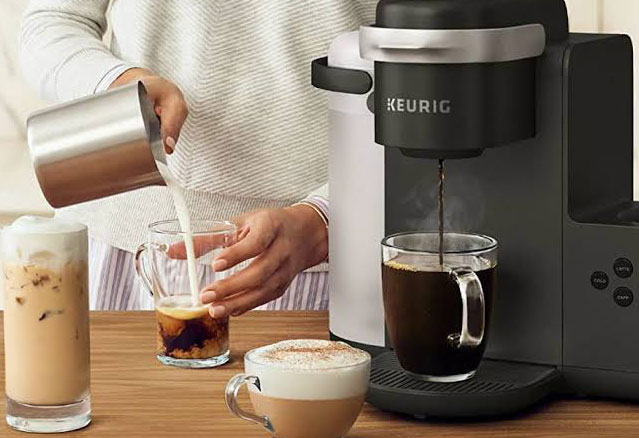 If you're a lover of creamy lattes and cappuccinos, then the K-Café could be the machine for you. It's the latest in brewer innovations coming from Keurig. With the K-Café coffeemaker, you can brew any kind of favourite coffee or make creamy lattes and frothy cappuccinos using any K-Cup pod.
So to make any coffee with the K-Café, you simply brew using a Keurig K-Cup pod of your choice and if you're making a latte or cappuccino, then froth the milk with the included frother (which you place on the heater at the machine) then serve it up to enjoy!
Key Features on the Keurig K-Café
The K-Cafe comes with an auto shut-off time of 2 hours which can also be disabled if you want it brewing all of the time. Other features include:
It has a large water tank (60 oz): This allows you to brew up to 6 cups on 1 fill.
You can use any K-Cup pod to brew coffee with this Keurig coffeemaker (note: it doesn't brew using K-Carafe pods, K-Mug pods, Vue pods, or Rivo pods
A simple button control allows – you just simply insert any K-Cup pod and then use the button controls to brew the coffee type of your preference such as hot lattes or iced lattes and cappuccinos.
Comes with a 'smart start' feature – so it heats, then will brew in one basic process. You don't have to stand around waiting for it heat before you choose your cup sizing.
It's very energy efficient: The auto cut off option after 2 hours of the last brew gives you great energy savings.
The machine is designed for travel mugs of up to 7.2" tall
Dishwasher safe giving you hassle-free cleanup.
Making Lattes and Cappuccinos is very easy with this top 5 bestseller brand in single-serve coffeemakers. Using the K-cafe Keurig is a simple 3 step process and doesn't present you with any complex issues – if you love K-Cup concept then this is definitely going to be worth you checking out further, follow the link below for more information on the K-Café Keurig coffeemaker.
No. 2 – French Press Coffee Maker (34 Ounce) – Cafe Du Chateau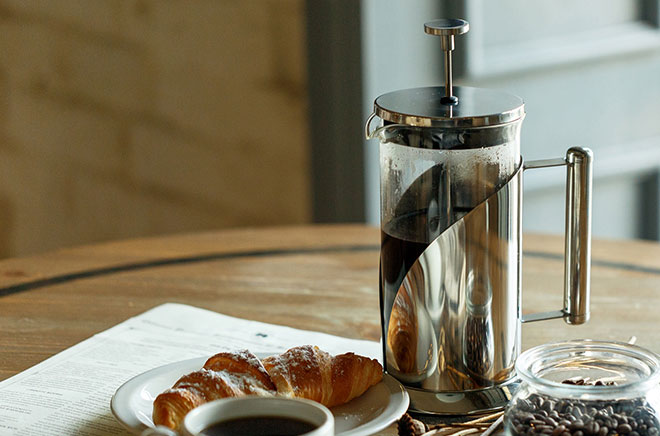 The Cafe Du Chateau's French Press coffee maker is probably the closest you'll get to cafe or coffee house quality coffee (or tea) without having to worry about the expense. If you prefer making coffee with a french press then you'll love this 32 oz french press – its big key feature is the 4-level filtration system that seals the edges airtight so you don't get the annoying grounds in your brews. This is mainly noted feature or highlight amongst the buyers of this French Press.
The quality and parts on this elegant looking French Press are outstanding and it's really easy to why it's been a top 5 performer for a number of years. It's built with 304 food-grade stainless steel. The carafe is made from tempered German borosilicate glass which is heavy duty and so doesn't leak and withstands extreme heat or boiling water.
Key Features on the French Press Cafe Du Chateau
The big feature is the 4 level filtration system – which has double stainless steel screen filters and is backed up by a durable plunger. This is supported by a spring-loaded base plate which seals the edges, up onto a final top lid strainer. This ensures no leaking of grounds and keeps you coffee brew free of any 'muddy' experience.
Premium quality parts – everything is made from 304 stainless steel and has a durable heavy duty carafe
Lifetime Guarantee – Café Du Chateau gives you a guarantee on your french press, its parts if anything faulters – which is amazing confidence from the brand that you'll be getting a French Press of the highest standard.
For around the 20 dollar mark you can't go wrong with this coffeemaker if you don't have the bucks for something that's more automated. At the end of the day, you're getting a French Press that can produce the same standard quality of brews. Find out more about what buyers are saying about it the Cafe Du Chateau French Press via the link below:
No. 1 – Keurig K-Classic, Single-Serve, K-Cup Pod Coffee Brewer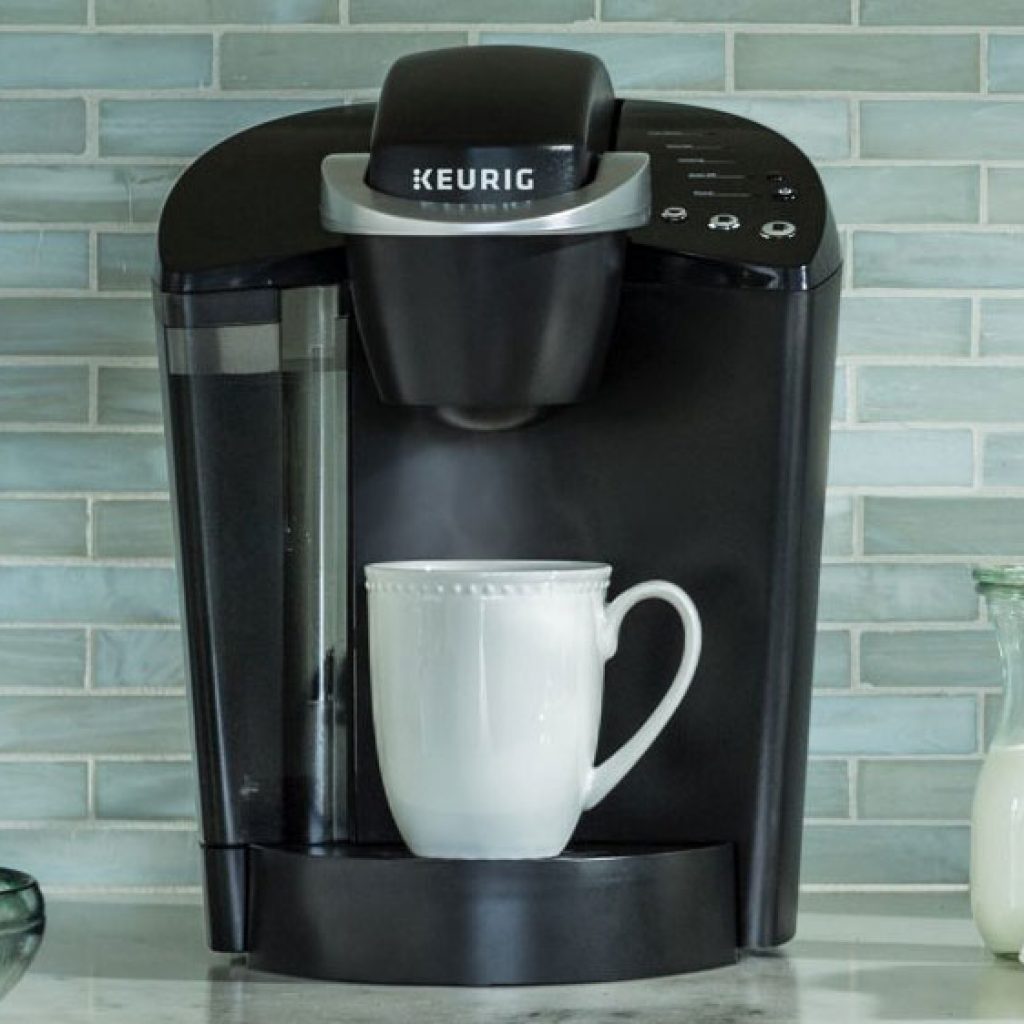 Amazon's current no.1 bestseller – the Keurig's K-Classic or K55 Coffee Maker is designed for single-serve and takes K-Cup Pods. It can brew in the sizes of 6 To 10 Oz. and comes in classic black colour (or red if you prefer).
This coffeemaker has been popular for years as its the perfect buy under the 100 dollar range for those that are 'newbie' to coffee making machines. You just need to purchase the K-Pods, insert and then using the simple push-button interface design the machine will then take care of the rest in less than a minute.
Features of the Keurig K-Classic K55
You can use multiple K-Cup sizes : (either 6, 8, or 10 oz.) – which are the most regularly used K-Cup pod in the brew range. However, the 6oz size gives the strongest tasting brews.
Ample size in water Reservoir: 48 oz. allows you to brew up 6+ cups before having to refill. The reservoir is also detachable which allows you easy refill.
It has descaling: Which is vital to clean the brewer. It helps remove calcium deposits, or scale, that can build up inside a coffee maker over time.
Auto-off energy-saving feature: Can be programmed to turn off the machine completely after 2 hours idle.
Easy to use interface and buttons: Allows you a very straight forward 1-minute process. (Insert pod, select cup size, and brew)
The Keurig K-cup coffeemakers dominated the top 100 best-sellers on Amazon and most retail stores. So its no surprise to see a Keurig K-Cup enabled model like this one sitting at no.1.
For under 100 dollars it's worth checking out more. Find out by reading buyers reviews on the K-Classic K55 via clicking on the link below (shows the latest price now at Amazon).