Jura 15075 J90 Automatic Coffee Machine Review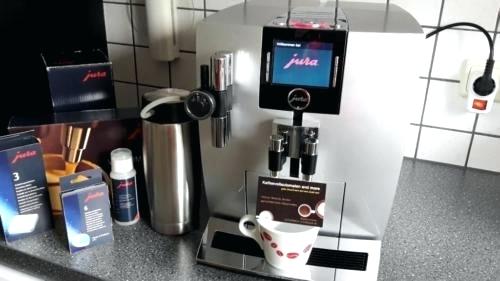 The visually sleek and elegant looking Jura 15075 J90 model is one of Jura's premium automatic coffee machines. It's been around since 2015 and ranges from a hefty 2,000 to 2,500 USD. So do you really get what you pay for or is all just a big show? I hope to provide an accurate look at the Jura J90 that will cover those type of questions plus more in the following review.
Is the Jura J90 worth the high price tag?
The Jura J90 15075 is made for those who enjoy the flexibility of choosing any type of coffee with the luxury of just pushing a button via the 'One-Touch' and free of messing around with making coffee manually – like grinding of beans, milk frothing, loading up with beans or water etc.
In other words, it's a fully automated coffee machine and so the high price means you're getting the benefit of that luxury – however, we all read reviews about machines that can't deliver on ease of use, taste quality you get at a Coffee Shop and for a machine of this price you'd expect it would. The rest of this review looks at if Jura J90 actually does deliver on quality coffee drinks as well as the machine features and ease of use.
Below is a breakdown of the main highlights and features on the Jura J90 One-Touch automatic coffee machine:
Key Features on the Jura J90
TFT Display
The Jura J90 comes with a TFT (Thin Film Transistor) display – which is intuitive and easy to use interface display that allows you to rotate through (with the Rotary Switch) with a list of coffee types for you to choose from.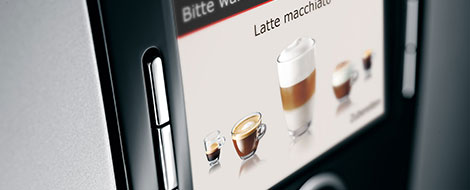 Upgraded Grinder
The coffee machine comes with an upgraded grinder (Aroma+) which is faster and much more efficient in grinding.
Adjustable spout integrated with fine foaming
The Jura J90 allows the height of the cappuccino spout to be changed to make a range of coffees from latte macchiato and cappuccinos. Then you have it combined with integrated fine foam technology that gives you milk foam quality that's very fine and feather-light.
Visual high-quality look
The J90 automatic coffee machine is finished with a high-quality double coat that is tagged as 'Brilliant Silver'. Which is true as it has a visually brilliant shiny metallic-look silver lacquer finishing at the front. The machine casing also has stylish white aluminium at the top, sides and back which makes it a nice-looking piece of equipment in your kitchen.
Top 7 benefits of owning a Jura J90 automatic coffee machine
After some research gathering reading and watching buyer reviews and checking product specs, I've summarised all the main benefits below of to assist in any buying decisions for the J90 automatic coffee machine.
#1 Highly usable and intuitive
When it comes to operating automatic coffee machines, the J90 couldn't be easier or more intuitive to use. It's just a matter of turning the Rotary Switch to scroll through a selection of specialised coffee beverages that appears on the TFT display.
Just a press of the button once and you can be sitting down enjoying a cup of coffee fairly quickly. The modern icon design on the display interface combined with the stylish machine design – gives it a complete balance and complementary overall design.
#2 Quicker grinding with no loss of Aroma
The J90's Aroma+ plus grinder allows a grind that's now twice as fast for fully preserved aroma – Jura has perfected the cutting angle inside the grinding cone which makes it overall more efficient.
#3 Less noisy
As mentioned above, the grinding process is shorter and so there is less loud noise period. Overall it's been reported that the machine is relatively quiet compared to other models.
#4 The flexibility of different glass heights
As the height of the cappuccino spout can be adjusted, you can make a small espresso as well as using tall 6-inch glasses for making drinks like latte macchiatos or cappuccinos.
#5 Produces high-quality milk foam  
Another nice feature is that the lid is also designed to open up in a way that allows you to fill it up again without even having to detach it from the actual body of the machine.
#6 Premium standard beverages
Based on recent buyer reviews on the J90, you get a high standard beverage of your choice.  The common feedback descriptions about the quality:
"Better tasting coffee than cafes like Starbucks"
"Coffee, espresso, and ristretto made are consistently high quality"
"Makes exceptionally good espressos"
#7 Outstanding customer support
It goes without saying but you'd expect to get excellent responsive customer service when you need it. Jura is right up there with the best. You get phone and customer support service that's been reported as very responsive. This is something that is reassuring when you paying for a high-ticket item of thousands of dollars like the J90.
Any negatives or cons?
Yes, it's a high-ticket price item
J90 is not a cheap option for automatic coffee machine retailing at around the $2500 USD mark. However, just like with any high-end quality coffee machine that provides full automation, you're going to have to expect to pay a substantially large amount of more money than a standard coffeemaker.
While the J90 looks to be rather expensive at a first look, when comparing it with similar models in the same class (which can be as high as $6,000) it basically delivers you the same high level of coffee shop tasting quality.
Conclusion on the Jura J90 – should you get this machine?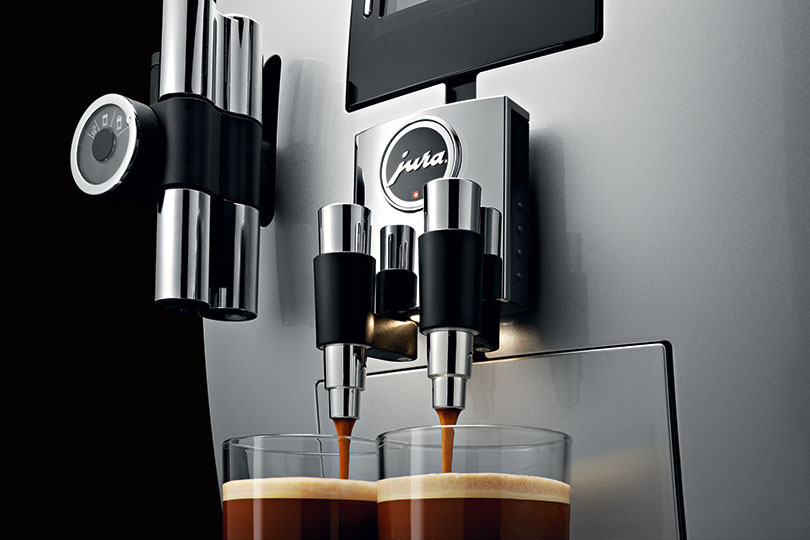 The Jura J90 is a premium level automated coffee machine that makes you any kind of coffee beverage from a flat black, espressos to cappuccinos at the highest quality. It's still priced at 1/3 of the cost of other much professional graded priced coffee machine options, however, the Jura J90 is still not a low-cost budget solution.
That said, you'll find the quality and the overall value for money makes up for the high ticket price.  The Jura J90 is a risk-free choice in terms of its ability to consistently make you great tasting, perfect aroma flavoured coffee and the easy operation of the Jura J90 is practically easy as pressing 1 button and hassle-free.
To save money in buying the J90 which usually retails at approx. $2,400 USD then the first place to look is at Amazon which can be around $500 USD dollars cheaper than anywhere else.
The Jura 15075 J90 Brilliant Silver – at Amazon with $400 off price here: