Review of Melitta 10-Cup Thermal Coffeemaker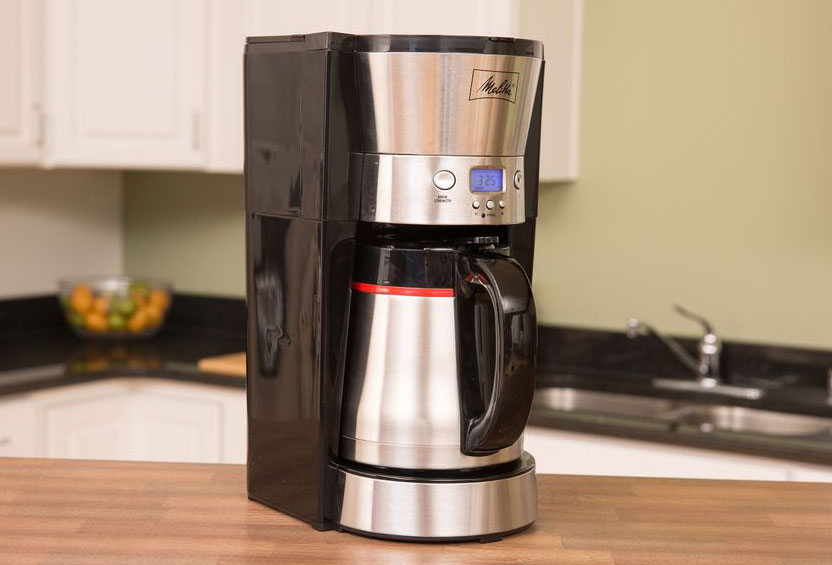 Is the Melitta 10-Cup worth the money?
When you're aiming to brew for taste without worrying about the mess, then the  Melitta 10 Cup Thermal coffee maker is something you should be considering. It's close to the ideal answer in how to keep your kitchen clean and the brewing process simple. This very handy 10-cup coffeemaker from Melitta is a sophisticated and practical machine, which offers coffee drinkers a superb and enhanced machine that gives you improved coffee making with no work.
It is possible to make up to 3 distinct kinds of coffee: Bold, robust or just regular. There aren't any complex settings to have to deal with, while the much-needed pause 'n' serve and no-drip pouring are both included. When you're after an efficient, hassle-free coffee machine that creates consistently great coffee, the Melitta 10-cup Thermal coffeemaker provides you answers in all those areas.
Good Points on the Melitta 10-Cup Thermal
Simple Settings
Using the Melitta 10-Cup, there no need to worry about not being a coffee specialist or a caterer. The Melitta 10-cup enables a bold, regular and robust setting that will change the water heating/dispense process within the grounds. Using just one of these settings, there is no need to jump over to different machines, for example, a French press to get the kind of coffee you need. This special feature is going to be very good for whenever you want to be an entertainer, as you can host and make your friends and guests their favourite kinds of coffee.
Efficiency
The Melitta Thermal is ultra-fast and very efficient, and you won't have to wait too long before your drinking a fresh morning coffee. You'll find that even the most robust setting will brew quick, so you can anticipate a totally full coffee pot within just a few minutes; which is a really great feature in the event you are likely to run just little late in the morning prior to getting to work. A big part of the reason why the Melitta is quick and efficient is that it's not overdone with fancy settings or program features that you really don't need. You can actually pre-set the timer in order for the coffeemaker to commence brewing every day and also enjoy the pause 'n' serve a function, but other than that, this espresso maker is unquestionably designed for speed and getting results efficiently as possible.
Thermal Carafe
If you happen to be sick and tired of consuming lukewarm coffee brews, you're going to love the fact that this coffeemaker carries a thermal carafe. So now you don't have to rely on a warming plate, then you can savour a really piping hot coffee which comes out from the carafe many hours later on. One very well known gripe with warming plates is that the coffee will give a burnt after taste a few hours later, but this thermal carafe from Melitta is not going to do that. Instead, it offers stainless steel that has double insulation on the walls that certainly does fix any issues. You can easily expect a similar nice fully flavoured tasting coffee if it's freshly created or even it's hours later.
Any negatives to point out?
We found 2 things that potential buyers may consider but aren't that major that it effects the overall performance of the coffeemaker and included is our suggestions as a workaround:
Fill line
The starting marker around the Melitta Thermal commences at 4 cups, which is not going to be much of an issue providing you can always make four or even many more cups. However, if you need to make 2 cups, then you'll need to use your very best guess or mark in a line yourself. You additionally won't be trying to sneak in more than 10 cups, because there is a dent on the back of the water reservoir that marks the ten cup level. What this means is in the event you fill it up higher than this, then water will tend to leak out. Nevertheless, as this coffee pot is designed for ten cups, most users have zero issues maintaining the ideal level between  4 and 10 cups of coffee.
Temperature
It goes without saying, that this modern coffeemaker features a thermal carafe to the keep the coffee warm for drinking anytime, however the coffee made from the appliance is not going to be extremely red hot to start with. Many buyers have overlooked this downside, as few people need their coffee to be very hot.
The temperature within this machine will never get that level where its extremely hot, for those times you can't find that ideal heating setting, you may want to use a few tips. As an example, try heating the carafe or your cup up in very hot water prior to adding the coffee. Also, be sure to make use of creamer very sparingly if you can; many users have complained regarding that once the creamer was added, it then dropped the heat of the coffee.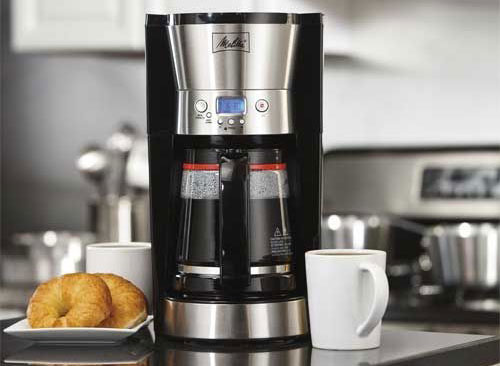 Conclusion – is the Melitta 10-Cup worth getting?
The design is easy to use and sophisticated, whilst the blue LCD clock is often considered a cool look and removes any need of a nightlight in your kitchen. Having a chrome steel insulated carafe, you are able to reach that ideal temperature and maintain it up there, permitting you more hours to drink the flavour coffee you're keen on.
The 10 Cup Melitta Thermal Coffee Maker is likely to make an excellent accessory for your home if you're a coffee lover that enjoys a nice warm cup of tasty coffee each day without worrying about fuss or messy brewing. You're not going to find this version overflowing with features, nonetheless, it doesn't leave out all the standard requirements that coffee fans love, for example, the coffeemaker's excellent stop and serve plus the programmable settings.
You can get the Melitta 46894 10-Cup at 2 retailers found at Amazon: