Hamilton Beach 47665 BrewStation Plus 12-Cup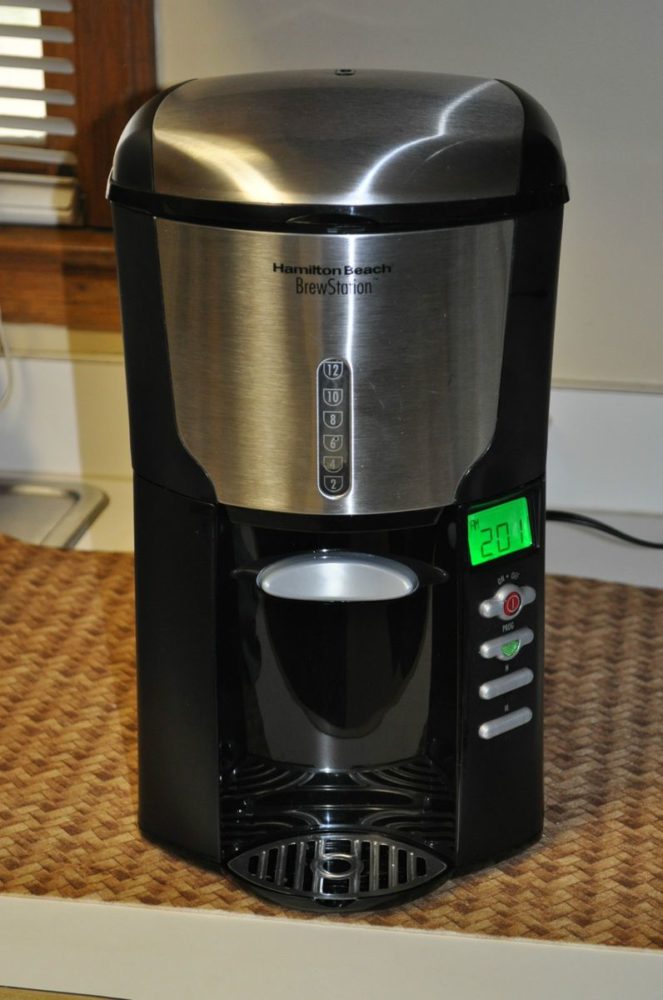 What's so special about the Hamilton Beach 47665 BrewStation Plus?
Hamilton Beach's 47665 BrewStation Plus is a coffee brewer that is regarded as one of those exceptional kitchen items that's hard to pass up if you're looking for a 12-cup brewer.
As the name implies, this is an automatic drip 12-cup coffeemaker which has very unique features. It has no hotplate and carafe that cause fresh coffee to spoil or roast.  The unit covers the brewer system, making the coffee hot until it is ready to serve. It also includes push-button to dispense at least 12 cups of freshly brewed coffee.
This product has an insulated thermal-lined coffee tank which helps in maintaining the brewing temperature. The BrewStation Plus 12-cup coffeemaker has a total exterior sizing of 6x8x17 inches and comes with a very stylish and modern design.  It's total size makes this coffee maker a lot more portable and can be placed in a small kitchen cabinet.
The Hamilton Beach BrewsStation Plus 47665, can be found in various shops, either online or local stores that sell automatic drip coffeemakers or 12-cup coffee maker. This product is very simple to use because of its simple button interface.
For customer's protection, manufacturers of the product provide one-year warranty and other services.
Pros on the Hamilton Beach 47665
The Hamilton Beach BrewStation Plus is made up of high-quality materials. These materials made the product more durable and useful. Even if you are new to this type of coffeemaker, you will never find it hard to operate the device. Its portable feature also made it more convenient to all users, especially office workers.
Its large digital timer with backlighting, the adjustable water tank and helpful drip tray makes it more effective. Once you use this coffeemaker, your coffee maintains fresh. You can freely enjoy the coffee break you desired to have.
Despite all the great features of Hamilton Beach 47665 BrewStation, this 12-cup coffee maker is also in a very low price range. Most online shops offer discount items and other incentives.
You can check out the latest discount pricing at Amazon – who usually offer the lowest price across all online retail sites.
Product Features
The Hamilton Beach 47665 BrewStation has remarkable features compared to other brands and models and these are the following:
The product includes 12-cup coffeemaker with a brewing system and doesn't require a carafe.
It is a one-handed dispensing with thermal-lined insulation and brew-stoppage function.
The product also includes coffee wake-up programmable with adjustable push-button power and controls.
It also includes 2-hour automatic digital timer or clock, shut-off and drip tray.
It measures 6x8x17 inches and unique designs.
The product has a dimension of 12.4 x 24.1 x 16.4 inches with 7.4 pounds.
It also includes a one-year warranty and product packages.
Cons
Just like most other coffeemakers, the Hamilton Beach 47665 12-cup brew station also includes few negatives for you to consider. With its increasing demands in the market, a lot of manufacturer tries to imitate this product. Since some products are imitation, some of them offer poor quality features and functions. This drawback, on the other hand, is very simple to solve. To avoid any fraud items, make sure that you examine every coffeemaker and supplier as well. The most trusted online seller in the world today is Amazon.
Customer Reviews and Scores
Before buying any items available in the market, it is recommended to read some of its reviews online. Based on the customer reviews on this Hamilton Beach coffeemaker, the  47665 BrewStation Plus, received 4 out of 5 stars. Out of 260 customer reviews, 135 of them ranked the product with 5 stars, 50 for 4 stars, 16 for 3 stars, 18 for 2 stars and 31 for one star.
These ratings simply point to the general view that this coffeemaker is proven to have great value for money, top quality and effective in making coffee.
Conclusion
If you are looking for one of the best coffeemaker models and brand in the 12-cup market, the Hamilton Beach 47665 BrewStation Plus is going to be an excellent choice.  Its exceptional features made the product remarkable and effective. Unlike other types of coffee makers, this product is very simple to operate. You also don't need to use any complicated procedures to prepare your favorite coffee.
Once you have this coffeemaker, make sure that you use to operate it accurately. If you are not familiar on its precise usage, you can simply use its instructional guidelines. For the best maintenance, you have to ensure that you maintain a regular routine of cleaning and proper storage of Hamilton Beach 47665 coffee maker. Once it's damaged, immediate repair is required to avoid any extreme malfunction parts.