Saeco Xelsis Digital ID Automatic Espresso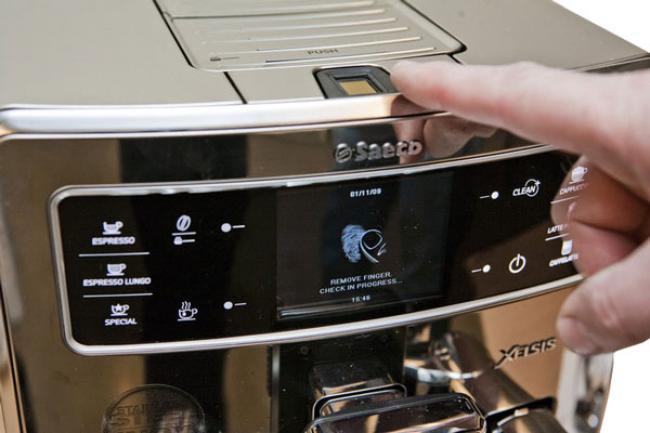 The Philips Saeco Xelsis Digital ID is a hi-tech class of coffee machines. It uses an amazing piece digital technological innovation that puts it a cut above the rest. Produced by Philips the Saeco Xeliss model (also referred to by retailers as the Philips Saeco R19946/47) is the very first in the digital coffee machine class that allows you to serve up your coffee type via the use of a ID profile which is triggered via fingerprint recognition. In other words, it recognizes your personal coffee preferences (exactly the way you like it) by just a finger pressed on a button.
It takes the process of making espresso to whole new easy level. All that's required is a simple touch of the button with the user's finger to start the coffee making process of your profile's personalized coffee preferences. The finger print recognition technology allows full programming and storage of 6 different user profiles.
Within these profiles the user can save up to 9 different kinds of personalized beverages. So things like setting temperature as well as milk froth settings (quantity, length and density). Saeco Xelsis looks incredibly stylish as is the case with other top Saeco coffee machine models. The difference hre being that it goes a up level in convenience not normally offered by super automatics.
Good points for the Seco Xelsis Digital ID
As you'd expect from a full automatic coffee machine in the higher price bracket, the Saeco Xelsis Digital ID has many benefits over lower priced conventional coffee machines. Below are the main good points about this Philips Seaco coffee machine has over other brand models or even other similar Seaco models.
Operation is very simple: The main benefit is you get a high quality espresso any time you need it that's fully automated with just a finger press.. The operation is pretty much flawless thanks to this new age innovation with finger print recognition technology. It also allows many different types of beverages (9 for each profile) that you can program into the machine that's easily recalled with one push of the button. Setting up profiles is very easy as well.
Easy cleaning: The Saeco Xelsis Digital ID is simple to clean and maintain as well. It also has a milk froth container to make your beverage much more flavorful taste.
Security: The finger print recognition also serve as a lock to the machine that will only recognize the saved finger prints, so this will minimize its usage and it becomes much harder to break.
Great looks: The unit is very stylish, looks very pleasing on the eye and will look great in any modern kitchen.
Durable construction: Your not get a weak and easy to break machine with the Saeco Xelsis. Construction is very solid of stainless steel.
Quiet: The Saeco Xelsis uses ceramic grinders, which means you get quieter machine when its making coffee – unlike a lot of other machines that use noisy for its steel for grinders. Ceramic gives a much quieter grinding process, which is great for a couple of reasons, the first being the coffee beans don't get grounded and beat up as bad as they would if using steel. Which means the coffee made is not as bitter as it would be with steel grinders. The second is that everybody can enjoy a peaceful sleep-in morning if there are early risers making coffee in the kitchen!
Plenty of options and variety: Your not just stuck with making coffee. You can use granulated coffee, or decaffeinated as well as tea as the espresso machine has a steam arm for boiling water.
Anything bad to be aware of?
One of the issues reported about this machine is that the coffee and milk that is coming out of it can be just luke warm. The good thing is that is a warming plate for your cups at the top of the machine which you can place your cup to be warmed up for use. One other drawback to this machine is that the drip tray can fill up quickly. Which users need to clean it after each usage so that it won't fill up quickly – something that only takes a little time to get used to as the machine is very easy to maintain and clean.
Buyer feedback and ratings
Ratings: If you look at the current ratings on most consumer report and online retail review sections that refer to the Saeco Xelsis Digital ID, it scores 4 to 4.5 out of 5 stars. At Amazon there are currently 9 customer reviews with an average score of 4.5 stars with 6 of those buyers scoring it 5 stars.
Buyers feedback on the Saeco Xelsis Digital ID:
Pros:
The majority of feedback on this machine are consistently indicating a very high quality machine that offers high convenience. Most are very happy that you just one press button to make a coffee.
Also all are saying the quality of coffee beverages produced (either cappuccinos, lattes or espressos) tastes great and full of flavour..
Many find the 6 user profile very useful especially if you have more than 2 using it that might double up in profiles for a variety of different tastes.
Cons:
The only negative feedback being reported (some of which is even coming from those giving it 4-5 stars) is that the machine can be tricky setting up initially for some its areas. Even though the machine comes with a 'quick start guide', it's not that obvious about proper set up for the water filter and pump.
A few are reporting display error codes  after installation which can be resolved by Seaco support or online help.
Another talking point is the American coffee beverage option which can be too strong tasting for some is not that customizable
There is very good advice about getting around any bad issues provided by actual buyers of the Saeco Xelsis Digital ID at Amazon.
Click here to read buyer reviews
Saeco Xelsis Digital ID feature summary:
Xelsis Digital ID profile programming that will recognize your fingerprint
Store 6 different user profiles
Profiles can be customized and can save up to 9 different personalized beverages
Users can also customize the beverages temperature, length and strength and the density and quantity of the milk froth
It has an integrated cappuccinatore that is hooked at the product's front and also has a huge external milk carafe
It automatically froths milk direct to the cup
It is simple to clean the ground tray and removable brew set
Sizing: 20 x 15 x 20 inches wide, weight: 40 pounds
The final say – should you buy the Saeco Xelsis Digital ID?
If you are after total one-press button coffee making automation, flexibility to change and customize your beverages with ease and love great tasting coffee, then you don't have to look any further than the Philips Saeco Xelsis Digital ID. The fact this fully automatic espresso machine can personalize your own beverages and can easily be accessed by a single finger print operation is very rare and makes the machine great value.
I've noted that there has been reported by buyers that problems can exist when setting up and with the digital functionality but will works perfectly after the problem is resolved.
Majority of Saeco Xelsis Digital ID buyers are saying that this is a fantastic easy to use espresso machine and it's hard to find any really bad feedback. The only minor negatives revolve around initial set up. Other than that, the Saeco Xelsis Digital ID is a high-performance espresso automatic machine built with durable stainless steel that will give you many years of use. This very advanced super-automatic espresso machine is definitely worthy of the high price tag.