JURA Z8 Automatic Coffee Machine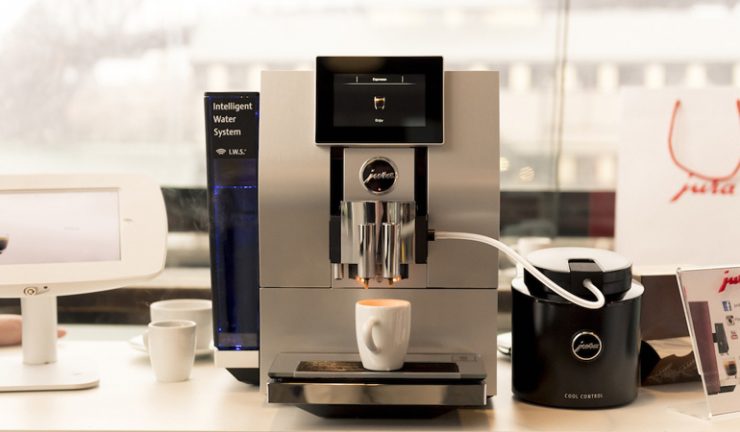 The Jura Z8 is regarded as premium level line Jura's automatic espresso machines and automatic coffee machine. In contrast to other basic coffee machines you'll find on the marketplace, the Jura Z8 is a complete state-of-the-art coffee and auto espresso machine.
What many say is great about this machine, is the one-touch digital controls panel will remind you exactly when to clean and also remove the old coffee grinds, plus the 4 beverage option buttons may programmable to the exact sizing, strength and heating preferences of your coffee beverages.
Main highlights on the Jura Z8
Huge range of beverage choices
The Jura Z8 has a main specialised feature of 'one-touch Americano' – so with 1 touch of a button, you can make very high-quality Americanos. But it also can make a staggering 21 different types of coffee beverages including cappuccinos, ristretto, macchiato, and classic flat whites. Another BIG plus is that 16 of those beverages can be programmable.
Makes coffee FAST
The Jura Z8 makes your beverage faster than other standard auto coffee machines. This is because two 'ThermoBlock' heating systems prepare coffee and milk at the same time. Also combine that with the AromaG3 grinder is twice as fast as a normal grinder. In addition, you can program the machine to remember your favourite brews at the touch of a button for future coffee making. Another nice option is it can make 2 beverages at once, which further speeds up coffee making.
Automatic milk-to-foam switchover
The Jura Z8 has the ability to switch over from milk to milk foam automatically. This means you don't have to worry about messing around with settings to get that nice fine foamy finish to your specialty coffee.
The Jura Z8 has the ability to switch over from milk to milk foam automatically. The pre-programmed settings mean you don't have to worry about messing around with trying to perfect that nice fine foamy finish to your specialty coffee. The Jura brand is well known to be one of the best for producing fine milk foam. Its fine foam technology will give you that feather-light milk foam to the specialty coffee.
Operate via the Jura mobile app (J.O.E)
You have the added benefit or handy feature of operating the Jura Z8 using the Jura mobile app J.O.E.®  on your smartphone or tablet. The Jura Z8 comes equipped with the Jura Bluetooth Smart Connect device software, which means you can select a coffee while watching the TV without having to venture over to the kitchen (but note that it can't do: turn on the Z8 and commence the initial rinse function. So you can't expect it to brew a cup of coffee for you if you've woken up in the morning from bed. It needs to be switched on.
Advanced water filtration system
It's nice to know you're getting a cleaner coffee brew as the Jura Z8 comes equipped with a state-of-the-art 'Clearyl Smart' water filtration system that removes impurities like chlorine and calcium.
Main features on the Jura Z8:
Americano One-Touch coffee brewing
select from of 21 coffee beverages – 16 programmable
High definition color 4.3″ touchscreen for easy coffee selection/programming.
New Aroma G3 grinder preserves the aroma with optimal grinding fineness
New brewing technology Pulse Extraction Process (PEP) which enhances the extraction time with short bursts that presses water through the ground coffee
Control the machine via the app Jura App, J.O.E. which is Bluetooth compatible
Clearyl Smart water filtration system that removes impurities like chlorine and calcium
Easy to clean as it has a two-compartment cleaning container to make the cleaning of the milk system much easier.
Large storage tank that's easy to re-fill that detaches easily from the machine the side.
Any negatives about buying the Z8?
Asking price is quite high:
The Jura Z8 is going to be a great high-tech coffee making asset to have in your home but it doesn't come cheap. You're looking at up to 4,500 USD for a brand new one or you can get up to 400 USD cheaper at online stores like Amazon. A lot of those shopping for a new automated coffee machine of this calibre will usually ask us why this machine is so expensive.
Well, you are getting what you pay for with the Z* a lot of very nice start-of-the-art automated functions that are designed with Swiss innovation and high technology brewing process features. Most importantly it makes the coffee brew such a higher standard than you'd get with cheaper options – which usually can't quite match the quality level a Coffeehouse can produce. The Z8 definitely can.
Is the Jura Z8 really worth the extra cost?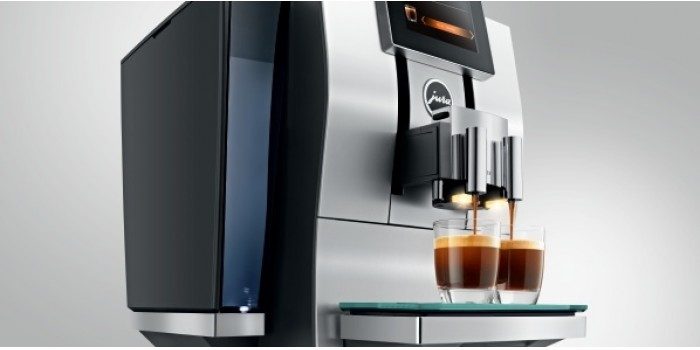 So when you still consider all the Swiss innovation that's gone into this machine for getting up to coffee shop quality tasting, you'll be able to see you're getting 'bang for buck' and you'll be impressed with the amount of money you're going to save long-term by avoiding the buying cups of brewed coffee at around $4.00 – $5.00 a cup or mug.
Keep buying cups at your coffeehouse 2 or 3 of times a day over 5 to 6 days – you can certainly see how you are forking out a lot of money which could be better invested into a new coffee machine over the course of a year. A lot of business owners, CEOs or bosses will see how the Jura Z8 is going to be great for the office kitchen or tea room – it's a great item to have for incentive and morale for the office.
The Z8 is perfect for any office that has lots of large-scale client meetings too. It can really pump out the coffees fast – with 2 at a time which makes the Z8 perfect during short meeting breaks.
The Jura Z8's digital display and ease of automatically making the beverage of your choice (up to 21 choices) are probably one of the top 3 highlights of this machine, as most owners appreciate the handy reminder about when to clean it or remove old grinds and more. Even though the Jura Z8 is an auto coffee machine on the high price bracket,  if you do have a bigger budget or the extra finances to invest in a high-end coffee machine, then this is going to be one to consider. You can get it at currently 20 retail sellers listed at Amazon.