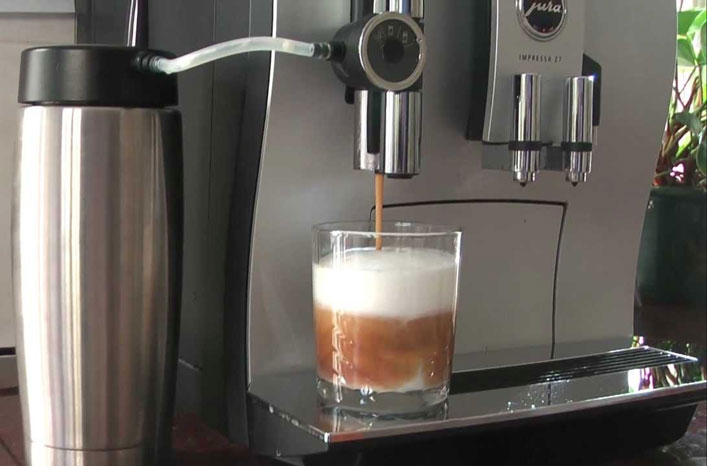 The Jura IMPRESSA Z7 automatic coffee machine has been around since 2012 and to this day is still doing very well in sales amongst coffee buyers who prefer automated coffee makers. The Impressa Z7 isn't very big or heavy (unlike most auto coffee machines), so you'll easily find a place for it in your kitchen. It has a wonderful modern design, so it will look great in your interior. Milk tank stands outside the device, but it's not big, so it doesn't need a lot of space.
Key features on the Z7
The Jura Impressa Z7 has many functions, like frothing system, powder recognition, adjustable water hardness and much more. With the Z7 you can make many different drinks, like black coffee, coffee latte, cappuccino, espresso, tea and more, if you like. Just insert right powder and make what you like.
Quality frothing
The frother system will make great and tasty froth for your chosen coffee. As it makes many beverages, it can be used by all your family. The beauty of automatic coffee machines of this calibre is that usually, it will save you time messing around with froths and spending tons of money. Without the Z7 you'll definitely be spending a lot more time if you make coffee in the old fashion way. And you'll certainly spend more money if you buy it all instead at some coffee shop.
Easy to clean

Also, the Jura Impressa Z7 is very easy to clean. That's because it has many removable parts, that makes cleaning easier. Also, the Z7 has a self-cleaning system, that will help you a lot and saves you time for doing other things. You won't have to clean the device very often, as it will clean itself.
It's recommended, that you clean your milk tubes after every use. Milk clogs tubes fast. With the right maintenance, your machine will serve longer and better.
Jura Impressa Z7 Highlights:
Device measures 16.5 x 12.5 x 14 inches.
Its weight is 25 pounds.
Has energy-saving mode.
Has powder recognition.
Adjustable grinder.
Has rinsing, cleaning and descaling program.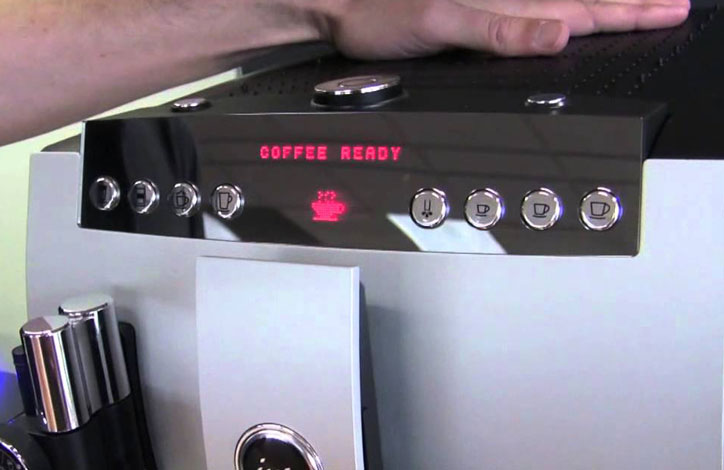 What's really great about the Z7 automatic coffee machine?
Makes many different beverages.
Has a self-cleaning system.
Frothing system.
Nice design for any kitchen.
Anything bad on the Z7?
Quite small containers.
Has no timer or clock.
Taller cups might not fit within the pouring unit.
What are actual buyers saying about the Jura Impressa Z7?
The overall positive buyers feedback on this machine is that produces coffee at a level that is considered at a professional level which means the coffee tastes no different to what you might get at the local coffee shop.
Most buyers note the quality of the build on this machine – which is made of the highest standard. Most note that the frother is of excellent quality. On the negatives, some find the servicing of the machine very expensive.
Full specifications and where to get the Z7?
The best place to get this coffee machine is at Amazon right now where they have new and used (refurbished) sellers of this best-seller: