Review: The Jura Impressa Z7 Automatic Coffee Machine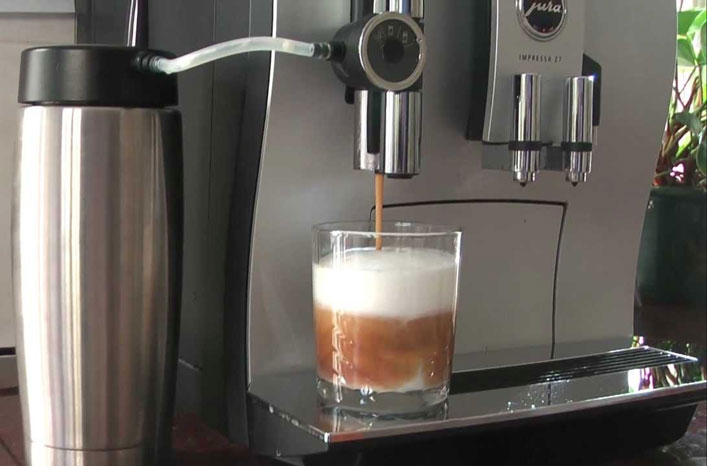 The Jura IMPRESSA Z7 automatic coffee machine was released at around 2010 and did very well in sales amongst coffee buyers who prefer automated coffee makers.
NOTE: Jura Impressa Z7 has been discontinued:
You'll find it very hard to find the Z7 at retailers or even get a used one.
Recommended alternative:
Jura 15145 automatic coffee machine (Amazon's listed 'choice'):
As Amazon's recommended choice in super-automatic espresso machines and one of Jura's best sellers in this coffee machine range, the 15145 WE8 chrome is going to be something you'll want to check out as its capable of everything the Z7 does.
The Jura 15145 is a well-designed machine makes use of technologies such as intelligent water distribution, hot water on demand, pre-infusion, and the Aroma+ grinder. Like the Z7, it also has a large LCD display making things easy to read.

The 15145 features a built-in milk carafe and frothing wand, which allows you to make lattes and cappuccinos at the touch of a button. The integrated automatic cleaning system ensures that your machine is always ready to use.
You can read more on its specifics as well as read the 41 buyer reviews at the Amazon link below:
Note: the remaining review below is for historical purposes only on the Z7 and if you're still considering getting a used Jura Z7.
Quality frothing
The frother system will make great and tasty froth for your chosen coffee. As it makes many beverages, it can be used by all your family. The beauty of automatic coffee machines of this calibre is that usually, it will save you time messing around with froths and spending tons of money. Without the Z7 you'll definitely be spending a lot more time if you make coffee in the old fashion way. And you'll certainly spend more money if you buy it all instead at some coffee shop.
Easy to clean

Also, the Jura Impressa Z7 is very easy to clean. That's because it has many removable parts, that makes cleaning easier. Also, the Z7 has a self-cleaning system, that will help you a lot and saves you time for doing other things. You won't have to clean the device very often, as it will clean itself.
It's recommended, that you clean your milk tubes after every use. Milk clogs tubes fast. With the right maintenance, your machine will serve longer and better.
Jura Impressa Z7 Highlights:
Device measures 16.5 x 12.5 x 14 inches.
Its weight is 25 pounds.
Has energy-saving mode.
Has powder recognition.
Adjustable grinder.
Has rinsing, cleaning and descaling program.
What's really great about the Z7 automatic coffee machine?
Makes many different beverages.
Has a self-cleaning system.
Frothing system.
Nice design for any kitchen.
Anything bad on the Z7?
Quite small containers.
Has no timer or clock.
Taller cups might not fit within the pouring unit.
What are actual buyers saying about the Jura Impressa Z7?
The overall positive buyers feedback on this machine is that produces coffee at a level that is considered at a professional level which means the coffee tastes no different to what you might get at the local coffee shop.
Most buyers note the quality of the build on this machine – which is made of the highest standard. Most note that the frother is of excellent quality. On the negatives, some find the servicing of the machine very expensive.
Where to get the Z7?
As this machine is a discontinued Jura coffee machine, you'll find that it's only going to be available at second-hand stores in kitchen appliances or online platforms at eBay or Gumtree and other classified sites like Craigslist.
Recommended Jura alternatives:
Jura 15145 – (currently Amazon's certified choice):
Jura 15145 is going to be your best bet: