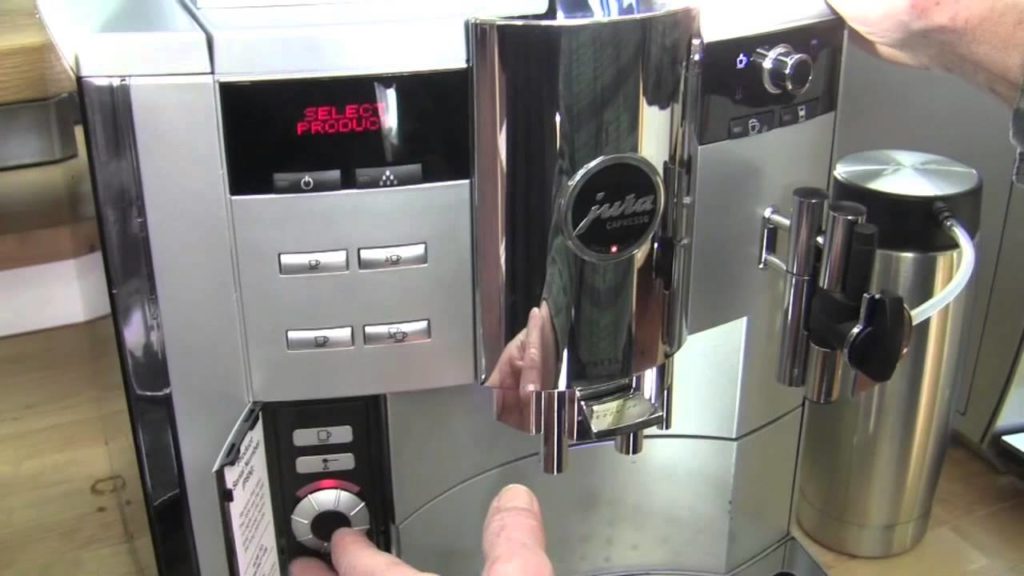 The Jura Impressa S9 is at the elite level of top automatic espresso machines and coffee centers. In contrast to other basic coffee machines you'll find on the marketplace, the Jura S9 Impressa is a complete state-of-the-art coffee and espresso center. The one-touch digital controls panel will remind you exactly when to clean and also remove the old coffee grinds, plus the 4 beverage option buttons may programmed to the exact sizing, strength and heating preferences of your coffee beverages.
Equipped with 1250 watts of maximum power, this coffee machine is remarkably fast, yet still very efficient. The dual ThermoBlock heating system, burr grinder along with coffee funnel certainly make this so. There are basically two ways to froth up the milk, along with a 20-oz stainless steel milk container. Featuring an amazing range of features for saving energy along with single touch program abilities and a full LCD display screen, you will find the sky is the limit when making fine espresso coffee with the Jura Impressa S9.
What is there to really like about the Impressa S9?
Single Touch Brewing: With the touch of a button, you can make very high quality espressos, lattes or even gourmet coffees. In just a few seconds, the Jura Impressa 'One Touch' S9 begins to grind, tamp and brew with the ability to do 1 to 2 cups all at once, from 1/2 to 16 oz. There is hardly any waiting time between your beverages due to the 2 ThermoBlock heating systems. Once programmed for the 4 beverage buttons is done, you have total power over the selection of your coffee strength, size and temperature to get you the very best tasting espressos at the single press of a button.
Centralised Platform: The Impressa S9 is a complete coffee/espresso center that has a few limitations. A dynamic platform gives you total power over making an endless list of specialised hot beverages such as café lattes and latte macchiatos. This coffee machine is actually reasonably simple to use when you compare to other machines which can be quite manual when it comes to measuring and balancing ingredients to making coffee. The S9 will do all the main tasks of making coffee which grinds, tamps and brews all due to having a built-in burr grinder and a bean container. The milk container which is made of stainless steel and is thermal maintains coldness for up to 8 hours.
Programmable: If you can only come up with one item to love about this Jura coffee center, then it's got to be the programmable functionality options. Instead of having to fumble through a complex menu system, the cofee center is easily to program and customise to your needs. The 4 beverages that are controlled by allocated buttons can be pre-set to the size, strength and heating of your coffee beverage tastes so is always a one-touch to start making a coffee – making the process hassle free.
If your after flexibility in choosing your own cup sizes and the strength at the moment before the brewing process begins, you can have the convenience of an a la carte menu. If you are not interested in coffee or espresso, then you can still operate the 3 hot water temperature choices to make a cup of tea. In addition, the burr grinder and bean container are very valuable assets to add to the machine which have up to 6 fineness settings for light as well as dark roast beans.
Energy Saver: Many people hold concerns around a few of present single-serve brewers since they could present a threat or impact on the world's environment. With the Jura Impressa S9 you won't have those issues to worry about as it functions without the need for coffee pods insertions or even capsules. As a bonus it also features a range of energy saving capabilities. For starters, the two ThermoBlock systems allow this machine to heat up very fast with efficiency and excludes any down time periods for in between brewing and frothing. The main power switch will avoid any possibility about energy being drawn when the coffee center is switched off but still plugged in. Together ith the programmed options, you also have available the option of stand-by mode which doesn't take in as much energy.
Good things about the S9:
combined grinding, tamping and brewing capabilities are all key features of this espresso maker
dual Thermo Block heat systems
full graphic display
Dynamic cup platform – for an endless list of specialised coffee mixes such as lattes
conical burr grinder
pre-ground coffee funnel
20 oz thermal milk container
4 fully programmable options available for the press of one button
Read buyers feedback at Amazon at this page
Anything bad?
High price tag: This Jura Impressa coffee center is an going to be a great asset to have in your home however it does come much higher price than some of the other best espresso makers on the market. A lot of shoppers ask us why this machine so expensive. Well, you are paying for a lot of very nice functions and features with this coffee machine. This includes a extremely intuitive technology, a dual heating element and digital reminders to ensure you clean the machine regularly.
Having said that, we still note the exterior of this coffee center is still produced from plastic, and there some buyers that are stating the coffee produced can be a little less than perfect when you consider the price tag. You can add to the bill that coffee center requires also consistent maintenance, to the for the period frequency of every 3 months. The repairs can be pricey, while the warranty is a little short, which all adds up to the total cost buying and running the machine.
Even so, when you still consider everything the Jura Impressa S9 provides you, you'll be impressed with the amount of money your going to saving more long-term by avoiding the buying cups of brewed coffee at around $4.00-5.00 a cup or mug. Doing 2 or 3 of those a day – it certainly can add up another coffee machines over the course of a year.
Getting repairs is tough: A big downside to owning the Jura S9 is you'll find a little hard to get the machine serviced or repaired. The repair centers are rare in local areas, so that means you'll need to ship this coffee center to a metro area that has a Jura repair center – all which can take a lot of additional time and money.
While this coffee center can be expensive, without a doubt you will still want to get it fixed if there has to be anything on it that were to go bad. The good news is that a large perentage of the repairs are really due to not looking after the machine. To reduce the risk of repairs and damage, be sure to attend to your coffee center regularly both for cleaning and maintaining – ideally every 2-3 days. Regular service should be done every 3 months.
Is the S9 really worth the extra cost?
The Jura Impressa S9 is a coffee and espresso center with a great deal of built-in technology to make operation of it very intuitive. Recommending this machine is easy for any keen coffee and fine espresso lover, however it's not going to be for those that don't have a lot money or budget to obtain it.
The important thing to consider is that the Jura Impressa S9 is a great asset and will save you money in the long run when it comes to the cost of coffee. Although we do note that a small percentage feel that the coffee could be better for the price. However, you do receive a well-built machine that the full spectrum of fancy features money can buy, in addition it has the ultimate sought after built-in in any coffee machine – a burr grinder. It also includes a ten-oz coffee bean container as well as coffee funnel.
The digital display and controls are probably one of the top highlights of this machine, as most owners appreciate the handy reminder about when to clean it or remove old grinds and more. Even though the Jura Impressa S9 is an auto espresso machine on the high price bracket, if you do have a bigger budget or the extra finances to invest in a high-end coffee machine, then this is going to be one to consider. It's a coffee machine that you'll going to adore and appreciate over many great tasting cups of espresso/coffee that it can make for many years.